Overview
Humidifier B 500 Professional, Humidifier for rooms of up to 900m³. Ideally suited for museums.
Details Air Humidifier B 500 Professional: the top class air-humidifying device Air...
more
Product information "Humidifier B 500 Professional"
Air Humidifier B 500 Professional: the top class air-humidifying device
Air Humidifier B 500 Professional is the perfect device for achieving optimal humidity levels in large spaces up to 900 m3. This air-humidifying device doesn't just create a comfortable indoor climate; it also provides proper climate regulation for materials storage and preservation. Expensive hardwood floors, valuable furniture or antiques benefit from proper humidity levels. As an air-humidifying device for larger spaces, the Air Humidifier B 500 Professional is ideal for use in museums, libraries, music studios and galleries. Technical facilities like IT centres, call centres and medical establishments can profit from the versatility of this professional device. The synthetic casing of the Air Humidifier B 500 Professional is not only easy to clean and maintain, but is also easy to transport thanks to its lightweight design and built-in wheels.
Air Humidifier B 500 Professional: cutting-edge technology with the highest efficiency
The mobile Air Humidifier B 500 Professional is a high-powered air-humidifying device for large spaces that operates on the evaporation principle and is in compliance with professional standards and requirements. It will impress you with its modern technology and efficiency as well as its extremely quiet operation, ample 50-litre water tank and high quality design. Equipped with an electronic control system, power humidity switch and infrared remote, the B 500 Professional is capable of operating automatically and is protected against unauthorized settings changes. With its neutral design and a choice of three different exterior colours, the Air Humidifier B 500 Professional provides the most visually appealing way to professionally regulate humidity and creates an optimal indoor climate to meet your specific needs. With a multitude of optional accessories, like a UV germ filter, direct water connection and flushing pump, no need will go unmet. Simply professional!
Operation: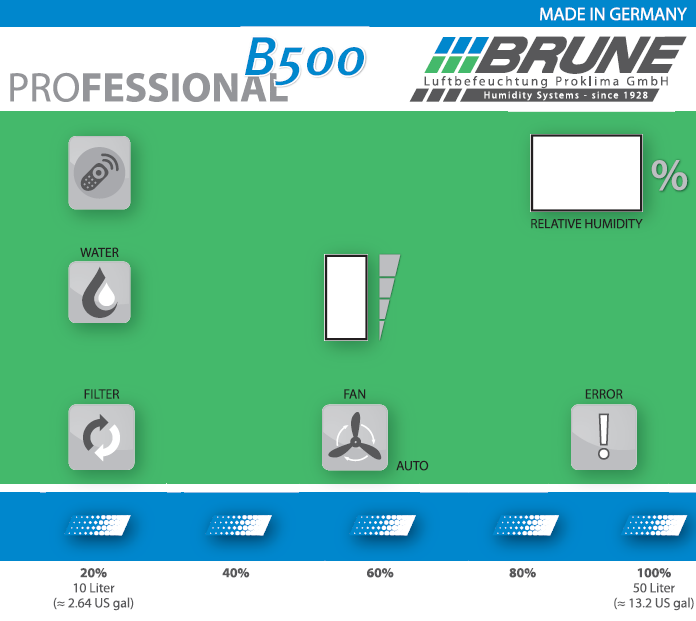 Everything under control - The well-structured control panel shows you whatever you need to see. And with the easy-to-use remote control you can change the settings of the air flow and the air humidity values according to your requirements. It is impossible for unauthorised persons to change the settings.
Special Equipment
UV-C technology and lime transforming cartridge
A UV-lamp kills germs and bacteria. The mercury low pressure lamp used in our devices operates in the UV-C range whose wavelenght kills most microorganisms. In this way, the water for the humidifier is disinfected efficiently and enters the water circulation of the device with a considerably reduced number of germs.
The lime conversion cartridge changes the molecular structure of lime in such a way that it can no longer form deposits on the surface in the humidifier.
Permanent magnets are used to generate a magnetic field along which the water is transported in the humidifier. Thus, clean, delimed water with a drastically reduced number of germs is continuously supplied to the filter.

Automatic Feeding Device
Connecting the B 500 air humidifier to the water main eliminates the need for manually filling it by hand. Topping up is done for you by an electronically controlled magnetic valve that automatically opens the water supply when the minimum water level is reached and stops it at the maximum level.
Cleaning Device (Flush)
This option gives you the possibility of replacing the water in the tank easily and conveniently. Deposits of lime scale and dirt are thus minimised. A separate rinsing pump expels the residual water from the tank so that it can be replaced with fresh water from a direct water connection. The rinsing can be started either manually, using the remote control unit, or automatically, at intervals that can be set and altered at any time between 1 and 7 days. You set the automatic flushing intervals yourself on the control panel.
Safety Water Sensor
Optionally an external water sensor can be connected to the controller of the B 500 Professional large space humidifier.
The sensor is placed underneath the humidifier (recommended in combination with the safety collection reservoir) and reacts immediately if there is an uncontrolled water leak. The device stops working and you are alerted to the leak by an acoustic signal and an error message on the B 500 Professional display.
External Water Monitor
The external water monitor can be used as an additional safety precaution where there is a direct water connection (automatic feeding device) for the B 500.
The water monitor is fitted with an independent water valve attached between the safety pressure hose and the water tap. The warer monitor´s sensor (cable length: 2m) is placed in the safety collection reservoir and shuts off the external water feed to the humidifier when it comes into contact with water.
An acoustic signal also sounds and this can only be deactivated by interrupting the power supply.

Safety Pressure Hose
The safety pressure hose prevents water escaping at the connection between humidifier and water tap.
Should the hose start to leak, this is detected by protective fabric inside the hose and the water feed is automatically shut off.
Safety Collection Reservoir
An additional safety collection reservoir is also availabe for the B 500 humidifier, which is placed underneath the humidifier.
It catches any excess water that might escape, thereby preventing damage to the installation location (e.g. parquet flooring).
In combination with the external water monitor or the safety water sensor it also serves to collect the water, thereby allowing the sensor to react quickly.

Systematic humidity!
Via the integrated radio hygrostat the combined operation with the Brune Dehumid HP 50 humidifier is possible. Thus the humidity in a room can be kept at a certain level (moisture passage) and humidification and dehumidification is controlled automatically via a common measuring point - without any overlaps.
In Addition, the unit can be controlled using the BRUNE Ethernet Module.
Specifications
| | |
| --- | --- |
| Dimensions (W x H x D) | 75,5 x 62,0 x 36,5 cm |
| Weight (empty) | 21 kg |
| Electric supply | 230V / 50Hz |
| Performance intake | max. 95 Watt (without accessories) |
| Evaporation performance | max. 2,6 ltr./h |
| Air flow | 900 m³/h |
| Supply connection | 2 m |
| Operating noise | ca. 32-44 dBA (depending on blower setting) |
| Evaporation filter surface | 3,5 m² |
| Water supply | approx. 50 ltr. |
| Color | white, grey or anthracite |
| Safety Mark | CE |
| Use for rooms up to | 900 m³ |
| suitable for humidor up to | 50 m³ at 70 % r.h. wothout cooling |
Videos
Read, write and discuss reviews...
more
Customer evaluation for "Humidifier B 500 Professional"
Write an evaluation
Evaluations will be activated after verification.